Discussion Starter
·
#1
·
Hi everybody -
I have had Dr. Schulze's Five Day Bowel Detox sitting at home for almost a year now, I forgot I even had it. I'm still not working, so I thought now is an excellent time to try it out (in case it interferes with my normal BM's).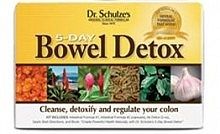 I'll be taking 10 of Dr. Schulze's Intestinal Formula
# 2
pills, five times a day, for 5 days. It's obviously supposed to clean your system out. I just started it today.
I still will be taking 3 of my Dr. Schulze's Intestinal Formula # 1 pills, along with 1 Intestinal Formula # 1 Max Strength, as I do every day. I will probably take a few extra Intestinal Formula # 1 pills every day because the # 2 formula can make you (what else?) constipated. (Intestinal Formula # 2 is for people with IBS-D.)
You can read a quick read about it here:
https://www.herbdoc.com/media/wysiwyg/pdf/5-Day-Bowel-Detox_quickstart.pdf
The full version:
https://issuu.com/americanbotanicalpharmacy/docs/bowel_book_2009_single_for_web
I'll post updates as I can.
Have a good weekend!